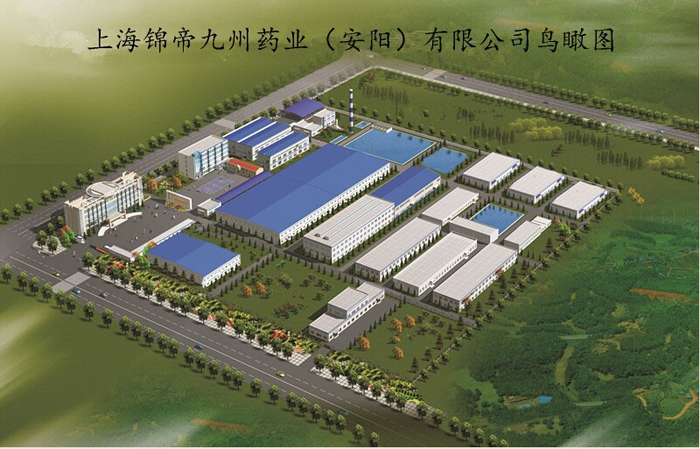 I. Company Profile
SHANGJAI JINDI JIUZHOU(ANYANG)PHARMACEUTICAL CO.,LTD formerly known as Anyang Jiuzhou Pharmaceutical Co., Ltd., is a key pharmaceutical company in Anyang City, Henan Province. It was relocated in Tangyin County from Wenfeng District, Anyang City in July 2009. Industrial cluster area (Pharmaceutical Industrial Park) Bianque Road, the company covers an area of 130 acres, registered capital of 80 million yuan, fixed assets of 220 million yuan, total assets of 250 million yuan. The main products are bio-fermented raw materials, synthetic raw materials, small-volume injections, 82 series of approvals, more than 90 varieties, the products are exported to Southeast Asia, Africa, Europe and other countries and regions, enjoying high in the international and domestic markets. Reputation is "Henan High-tech Enterprise", "Anyang City 100 Key Taxpaying Enterprise", "Anyang City 50 High Enterprise", and was awarded a four-star credit enterprise by the Tangyin County Government in 2014. The county government awarded the "Top Ten Fast" enterprises for industrial development.
The company's three series of drugs: bio-fermentation raw materials, synthetic raw materials, small-volume injections have passed the 2010, 2015 version of the drug quality GMP certification; environmental protection system has passed the Henan Province environmental protection acceptance and received the sewage permit issued by Anyang City 2017; the company now has Complete water, electricity, steam, wind, cold power system and environmental protection, quality inspection, biological laboratory and other ancillary equipment and facilities; the company has convenient transportation, the industrial park where the factory is located is close to Beijing-Guangzhou Railway, Beijing-Zhuhai Expressway, and high-speed rail; Enterprises have long enjoyed the preferential investment policies for government service packages.
Second, the current production and operation of the company
(1) Small-volume injection: At present, there are three production lines in the small-volume injection injection workshop, and 75 approval documents have been obtained. The production capacity of single shift is 50 million pieces/month, the output value is 800-10 million yuan/month, and the annual output value is 100 million yuan. In order to give full play to the advantages of complete and multi-applications of products, timely adjust marketing strategies and increase market share, according to the changes in the company's best-selling market, the goal of aiming at an annual output value of 200 million yuan will continue to grow stronger and bigger. The first step is to expand production, and the single-shift production will become double-shift production. The monthly output will reach 90 million, the output value will reach 15-16 million yuan/month, the annual output will be 1 billion, and the output value will be 1.5-160 million yuan. The profit is 16 million yuan. The second step is to optimize the products and make the unique varieties better and increase the high profits. Such as: fluorouracil, sodium diclofenac, etc.; especially hydroxycobalamin hydrochloride, the domestic one of my family has an injection approval, and now we are developing a drug substance approval. The company will continue to play the role of raw materials, injections have the unique advantages of approval, further optimize the process, and make the unique products better and stronger.
(2) Biological fermentation raw materials: Our company has a biological fermentation workshop with a total volume of 856 cubic meters, and the extraction process is advanced. It can produce a variety of bio-fermentation products, and has already possessed "multi-tailed" production capacity; it is currently cooperating with high-tech bio-tech companies such as Beijing, Shanghai and Hebei to produce multi-species bio-fermentation products using the company's advanced production platform. The company has successfully developed and researched the biological fermentation varieties: sodium hyaluronate, cyclic adenosine monophosphate, adenosine monophosphate, and adenosine monophosphate, which are the new economic growth points of the company.
(3) Chemical synthesis drugs: The company has three workshops for chemical synthesis drugs. Existing varieties: diclofenac sodium, diclofenac potassium, hydrochlorothiazide, cinnarizine, nitrendipine, propafenone hydrochloride.
Varieties are being developed: adenosine monophosphate, cyclic adenosine monophosphate, and hydroxycobalamin hydrochloride.
Third, the intention of foreign cooperation
The company intends to cooperate with the outside world in three aspects:
(I) Product cooperation intention: Our company is willing to carry out extensive cooperation with well-known medical research institutions. The cooperation direction is as follows:
First, relying on the fermentation plant platform, we will focus on introducing new varieties of bio-fermentation APIs.
Second, relying on the company's products diclofenac sodium bulk drug and other six varieties of three synthetic production workshop
The advantage is to further explore the international and domestic markets and hope to cooperate in the development of new synthetic API products.
Third, we want to seek to join domestic and foreign large pharmaceutical companies (groups), relying on group companies to expand the production scale of small-volume injections, promote market sales, introduce new varieties of high-value-added injections, and enhance the cooperation between the two companies to achieve win-win cooperation. .
Fourth, jointly carry out product development, workshop construction, production and sales management of adenosine monophosphate, cyclic adenosine monophosphate, hydroxocobalamin hydrochloride, hyaluronic acid, etc., and exert their respective advantages to achieve mutual benefit and win-win.
(2) There are three pieces of free land in the production area, and it is possible to build 7-8 production workshops of 1,500 square meters.
(3) Various forms of cooperation.
Our company's development goal: to create a domestic bio-fermentation, chemical synthesis of raw materials, pharmaceutical intermediate production base. The first phase of the construction of the plant has been completed. After the existing workshops are put into production, it is estimated that the annual sales income will be 350 million yuan and the profits and taxes will be more than 40 million yuan. In order to achieve development goals, accelerate the pace of transformation and upgrading, increase the new economic growth point, and further strengthen and expand the enterprise, the shareholders' meeting decided to introduce cooperation in various forms, and plans to cooperate with large pharmaceutical companies and people with knowledge and wisdom to jointly start a business. Development, methods and methods can be specifically agreed, such as capital increase and share expansion, holding, acquisition of shares or partners with funds, with projects, self-built workshops, fixed returns and other forms of cooperation. Exhibitions and plans to make good medicines and cohesive forces to benefit the well-being of the people, and create a great career to create a golden glory to achieve the Kyushu take-off! Zhao Wenwu, the chairman of the company, and all the shareholders, warmly welcome domestic and foreign knowledgeable and intelligent people to come to our company to invest in the industry, win-win cooperation and seek common development!
Company contacts:
Chairman: Zhao Wenwu Tel: 13903727767
General Manager: Zhang Lixia Telephone: 13603468686
E-mail: jzzf2518288@126.com
Fax: 0372-6250890
Website: wwwshjdjz.net